Move aside Mario, the movies are here to stay
Multiversus takes over video game scene
Known for its wide variety of popular TV shows and movies, Warner Bros. Entertainment has branched out into the world of crossover multiplayer combat games with its biggest project yet: MultiVersus. 
The ambitious company has decided to compete in the virtual fighting scene, despite games like Super Smash Bros. and the Street Fighter Series already having long-standing legacies in this genre. Super Smash Bros., arguably one of the largest modern fighting games, has amassed a staggering 25.71 million matches since its launch in 2016, according to "Video Games Stats" However, since its open beta in July 2022, MultiVersus has collected a colossal 20 million total players, as announced by the president of Warner Bros. Games.
This feat can largely be attributed to the wide variety of household names the company has access to, such as  Batman, Bugs Bunny, Shaggy, Steven Universe and 13 other characters available in-game. Despite this collection, the game is not done yet as basketball record holder and "Space Jam" movie star Lebron James was recently added, proving its expansion has only started with many more characters coming in future updates. This unique collection of characters has allowed MultiVersus to compete with the top-played and top-grossing fighting games.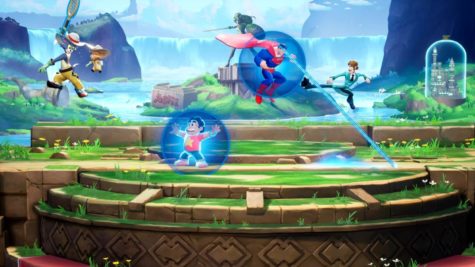 The first time loading up the game, you are prompted with a tutorial to teach you the basics of playing the game, before sending you into PvP (Player versus Player) where there are three modes: 1v1, 2v2, and four-player free for all. After queuing into a game, you will be randomly given one of six maps: Batcave, Scooby's Haunted Mansion, Tree Fort from Adventure Time, Trophy's E.D.G.E, Sky arena or Cromulon's Stage. The goal is to do as much damage as you can to your opponent to send them flying off of the edge of the screen for an elimination. Generally, a combination of the least deaths and most eliminations would win, as seen in the general fighting game scene.
Collectively, MultiVersus is an attractive and easily playable game that allows players to progress by learning characters and leveling them up. With various modes, it is easy to play alone as a pass time or with friends to have fun. Despite being new, with the special taste of bigger names than Mario or the Pokemon characters,  MultiVersus has cemented itself in the fighting game genre and shows uncaged potential for growth.