Sailing towards success
Multi-tasker balances 6 AP classes, job on yacht
By Brody Berrios, Managing Editor 
Senior Hayes Olson, a scholar, camp counselor, lacrosse player, musician and gamer, has a job on a yacht that lets him travel to various places such as the Bahamas. 
"Being able to have this opportunity to travel and experience life on a yacht is so fun, and the pay is pretty good," Olson said.
Olson's life in school is a much different experience, taking six AP classes and having to balance all of that with being on the lacrosse team and his job cleaning and maintaining the yacht. Free time is almost nonexistent without sacrifices with large amounts of homework getting in the way of non-school related activities. 
"In recent years the boys lacrosse team has been lacking (enough to field a team), but I've recruited some people and we are looking forward to a good year," Olson said, having started conditioning with what he hopes to be a full team.  
Olson plans to attend the University of Florida, with his backup' Cornell University. 
"I chose Pompano not only because it's one of the top 300 high schools in the state but because it's going to help achieve the goal of getting into my dream college," Olson said.
He has completed his magnet program and is on his application process as he prepares to build a career in computer science and get his masters in cyber forensics at a college in New York. Olson eventually wants to explore a career in cyber security. 
"I think the fact that I have the potential to help people in ways they need really gives me hope and desire to further continue my path," Olson said.
Olson has won a academic awards such as the Duke Tip award for scoring an 1190 on the SAT in the seventh grade and an AP Scholar award for performance on his AP exams. 
Even with such a busy life, Olson plays six instruments: guitar, piano, base, cello, banjo and ukulele. 
"Even though schoolwork takes priority I still love to play music," Olson said.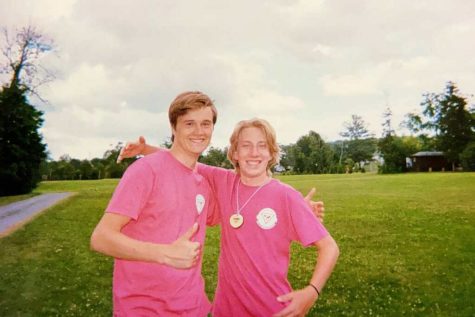 The senior has also participated as camp counselor at a YMCA summer camp in New York, teaching young kids archery and how to sail, stating that he really enjoys working with kids and further advancing their knowledge to the best of his ability. 
"I think traveling to be a counselor at a summer camp is really rewarding for me," Olson said.