Literary fair entries due Jan. 17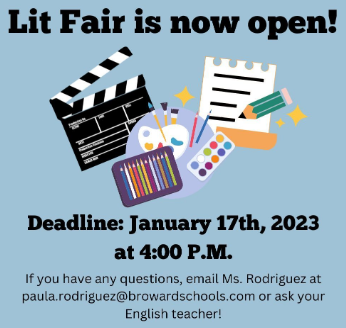 Poets in ancient Greece called upon the Muses for inspiration. Creative writers at school rely more on contests and impending deadlines. Entries for the school literary fair are due online at 4 p.m. Jan. 17.
The school literary fair is part of a series of contests across various categories related to poetry, fiction and drama, concluding with the district Literary Fair and awards presented at a ceremony in the spring at the Broward Center for the Performing Arts. a contest composed of students competing for the finest literary piece amongst other students in the district. There are a multitude of genres to choose from. 
"I encourage students to try as many genres as possible," English teacher Paula Rodriguez said. Rodriguez is the contest coordinator for the literary fair. 
Students must submit their entry via Google Form anonymously. The ELA department judges entries to which the best one will be awarded a district-level prize. 
"We couldn't do it without them," Rodriguez said.